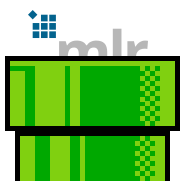 Box-Cox Transformation of Numeric Features
Source:
R/PipeOpBoxCox.R
mlr_pipeops_boxcox.Rd
Conducts a Box-Cox transformation on numeric features. The lambda parameter of the transformation is estimated during training and used for both training and prediction transformation. See bestNormalize::boxcox() for details.
Construction
id :: character(1)
Identifier of resulting object, default "boxcox".

param_vals :: named list
List of hyperparameter settings, overwriting the hyperparameter settings that would otherwise be set during construction. Default list().
Input and Output Channels
Input and output channels are inherited from PipeOpTaskPreproc.
The output is the input Task with all affected numeric features replaced by their transformed versions.
State
The $state is a named list with the $state elements inherited from PipeOpTaskPreproc, as well as a list of class boxcox for each column, which is transformed.
Parameters
The parameters are the parameters inherited from PipeOpTaskPreproc, as well as:
See also
https://mlr3book.mlr-org.com/list-pipeops.html
Other PipeOps: PipeOpEnsemble, PipeOpImpute, PipeOpTargetTrafo, PipeOpTaskPreprocSimple, PipeOpTaskPreproc, PipeOp, mlr_pipeops_branch, mlr_pipeops_chunk, mlr_pipeops_classbalancing, mlr_pipeops_classifavg, mlr_pipeops_classweights, mlr_pipeops_colapply, mlr_pipeops_collapsefactors, mlr_pipeops_colroles, mlr_pipeops_copy, mlr_pipeops_datefeatures, mlr_pipeops_encodeimpact, mlr_pipeops_encodelmer, mlr_pipeops_encode, mlr_pipeops_featureunion, mlr_pipeops_filter, mlr_pipeops_fixfactors, mlr_pipeops_histbin, mlr_pipeops_ica, mlr_pipeops_imputeconstant, mlr_pipeops_imputehist, mlr_pipeops_imputelearner, mlr_pipeops_imputemean, mlr_pipeops_imputemedian, mlr_pipeops_imputemode, mlr_pipeops_imputeoor, mlr_pipeops_imputesample, mlr_pipeops_kernelpca, mlr_pipeops_learner, mlr_pipeops_missind, mlr_pipeops_modelmatrix, mlr_pipeops_multiplicityexply, mlr_pipeops_multiplicityimply, mlr_pipeops_mutate, mlr_pipeops_nmf, mlr_pipeops_nop, mlr_pipeops_ovrsplit, mlr_pipeops_ovrunite, mlr_pipeops_pca, mlr_pipeops_proxy, mlr_pipeops_quantilebin, mlr_pipeops_randomprojection, mlr_pipeops_randomresponse, mlr_pipeops_regravg, mlr_pipeops_removeconstants, mlr_pipeops_renamecolumns, mlr_pipeops_replicate, mlr_pipeops_scalemaxabs, mlr_pipeops_scalerange, mlr_pipeops_scale, mlr_pipeops_select, mlr_pipeops_smote, mlr_pipeops_spatialsign, mlr_pipeops_subsample, mlr_pipeops_targetinvert, mlr_pipeops_targetmutate, mlr_pipeops_targettrafoscalerange, mlr_pipeops_textvectorizer, mlr_pipeops_threshold, mlr_pipeops_tunethreshold, mlr_pipeops_unbranch, mlr_pipeops_updatetarget, mlr_pipeops_vtreat, mlr_pipeops_yeojohnson, mlr_pipeops
Examples
library

(

"mlr3"

)





task

 

=

 tsk

(

"iris"

)




pop

 

=

 po

(

"boxcox"

)





task

$

data

(

)




#>

        Species Petal.Length Petal.Width Sepal.Length Sepal.Width


#>

   1:    setosa          1.4         0.2          5.1         3.5


#>

   2:    setosa          1.4         0.2          4.9         3.0


#>

   3:    setosa          1.3         0.2          4.7         3.2


#>

   4:    setosa          1.5         0.2          4.6         3.1


#>

   5:    setosa          1.4         0.2          5.0         3.6


#>

  ---                                                            


#>

 146: virginica          5.2         2.3          6.7         3.0


#>

 147: virginica          5.0         1.9          6.3         2.5


#>

 148: virginica          5.2         2.0          6.5         3.0


#>

 149: virginica          5.4         2.3          6.2         3.4


#>

 150: virginica          5.1         1.8          5.9         3.0


pop

$

train

(

list

(

task

)

)

[[

1

]

]

$

data

(

)




#>

        Species Petal.Length Petal.Width Sepal.Length Sepal.Width


#>

   1:    setosa   -1.3431567  -1.3850773   -0.8917547  1.01831791


#>

   2:    setosa   -1.3431567  -1.3850773   -1.1812229 -0.08167295


#>

   3:    setosa   -1.4033413  -1.3850773   -1.4845435  0.37307046


#>

   4:    setosa   -1.2832670  -1.3850773   -1.6417967  0.14833599


#>

   5:    setosa   -1.3431567  -1.3850773   -1.0348319  1.22454068


#>

  ---                                                            


#>

 146: virginica    0.8174171   1.2930924    1.0385560 -0.08167295


#>

 147: virginica    0.7075555   0.9020852    0.6097200 -1.32264877


#>

 148: virginica    0.8174171   1.0023867    0.8279148 -0.08167295


#>

 149: virginica    0.9269887   1.2930924    0.4976284  0.80781419


#>

 150: virginica    0.7625234   0.7998822    0.1485189 -0.08167295



pop

$

state




#>

 $bc


#>

 $bc$Petal.Length


#>

 Standardized Box Cox Transformation with 150 nonmissing obs.:


#>

  Estimated statistics:


#>

  - lambda = 0.931286 


#>

  - mean (before standardization) = 2.58137 


#>

  - sd (before standardization) = 1.627669 


#>

 


#>

 $bc$Petal.Width


#>

 Standardized Box Cox Transformation with 150 nonmissing obs.:


#>

  Estimated statistics:


#>

  - lambda = 0.6433629 


#>

  - mean (before standardization) = 0.08586719 


#>

  - sd (before standardization) = 0.7857394 


#>

 


#>

 $bc$Sepal.Length


#>

 Standardized Box Cox Transformation with 150 nonmissing obs.:


#>

  Estimated statistics:


#>

  - lambda = -0.144751 


#>

  - mean (before standardization) = 1.549011 


#>

  - sd (before standardization) = 0.1094848 


#>

 


#>

 $bc$Sepal.Width


#>

 Standardized Box Cox Transformation with 150 nonmissing obs.:


#>

  Estimated statistics:


#>

  - lambda = 0.2810121 


#>

  - mean (before standardization) = 1.30301 


#>

  - sd (before standardization) = 0.1950175 


#>

 


#>

 


#>

 $dt_columns


#>

 [1] "Petal.Length" "Petal.Width"  "Sepal.Length" "Sepal.Width" 


#>

 


#>

 $affected_cols


#>

 [1] "Petal.Length" "Petal.Width"  "Sepal.Length" "Sepal.Width" 


#>

 


#>

 $intasklayout


#>

              id    type


#>

 1: Petal.Length numeric


#>

 2:  Petal.Width numeric


#>

 3: Sepal.Length numeric


#>

 4:  Sepal.Width numeric


#>

 


#>

 $outtasklayout


#>

              id    type


#>

 1: Petal.Length numeric


#>

 2:  Petal.Width numeric


#>

 3: Sepal.Length numeric


#>

 4:  Sepal.Width numeric


#>

 


#>

 $outtaskshell


#>

 Empty data.table (0 rows and 5 cols): Species,Petal.Length,Petal.Width,Sepal.Length,Sepal.Width


#>