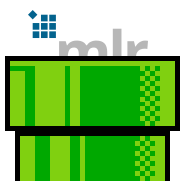 Non-negative Matrix Factorization
Source:
R/PipeOpNMF.R
mlr_pipeops_nmf.Rd
Extracts non-negative components from data by performing non-negative matrix factorization. Only affects non-negative numerical features. See nmf() for details.
Construction
id :: character(1)
Identifier of resulting object, default "nmf".

param_vals :: named list
List of hyperparameter settings, overwriting the hyperparameter settings that would otherwise be set during construction. Default list().
Input and Output Channels
Input and output channels are inherited from PipeOpTaskPreproc.
The output is the input Task with all affected numeric features replaced by their non-negative components.
State
The $state is a named list with the $state elements inherited from PipeOpTaskPreproc, as well as the elements of the object returned by nmf().
Parameters
The parameters are the parameters inherited from PipeOpTaskPreproc, as well as:
See also
https://mlr3book.mlr-org.com/list-pipeops.html
Other PipeOps: PipeOpEnsemble, PipeOpImpute, PipeOpTargetTrafo, PipeOpTaskPreprocSimple, PipeOpTaskPreproc, PipeOp, mlr_pipeops_boxcox, mlr_pipeops_branch, mlr_pipeops_chunk, mlr_pipeops_classbalancing, mlr_pipeops_classifavg, mlr_pipeops_classweights, mlr_pipeops_colapply, mlr_pipeops_collapsefactors, mlr_pipeops_colroles, mlr_pipeops_copy, mlr_pipeops_datefeatures, mlr_pipeops_encodeimpact, mlr_pipeops_encodelmer, mlr_pipeops_encode, mlr_pipeops_featureunion, mlr_pipeops_filter, mlr_pipeops_fixfactors, mlr_pipeops_histbin, mlr_pipeops_ica, mlr_pipeops_imputeconstant, mlr_pipeops_imputehist, mlr_pipeops_imputelearner, mlr_pipeops_imputemean, mlr_pipeops_imputemedian, mlr_pipeops_imputemode, mlr_pipeops_imputeoor, mlr_pipeops_imputesample, mlr_pipeops_kernelpca, mlr_pipeops_learner, mlr_pipeops_missind, mlr_pipeops_modelmatrix, mlr_pipeops_multiplicityexply, mlr_pipeops_multiplicityimply, mlr_pipeops_mutate, mlr_pipeops_nop, mlr_pipeops_ovrsplit, mlr_pipeops_ovrunite, mlr_pipeops_pca, mlr_pipeops_proxy, mlr_pipeops_quantilebin, mlr_pipeops_randomprojection, mlr_pipeops_randomresponse, mlr_pipeops_regravg, mlr_pipeops_removeconstants, mlr_pipeops_renamecolumns, mlr_pipeops_replicate, mlr_pipeops_scalemaxabs, mlr_pipeops_scalerange, mlr_pipeops_scale, mlr_pipeops_select, mlr_pipeops_smote, mlr_pipeops_spatialsign, mlr_pipeops_subsample, mlr_pipeops_targetinvert, mlr_pipeops_targetmutate, mlr_pipeops_targettrafoscalerange, mlr_pipeops_textvectorizer, mlr_pipeops_threshold, mlr_pipeops_tunethreshold, mlr_pipeops_unbranch, mlr_pipeops_updatetarget, mlr_pipeops_vtreat, mlr_pipeops_yeojohnson, mlr_pipeops
Examples
if

 

(

requireNamespace

(

"NMF"

)

)

 

{


library

(

"mlr3"

)





task

 

=

 tsk

(

"iris"

)




pop

 

=

 po

(

"nmf"

)





task

$

data

(

)




pop

$

train

(

list

(

task

)

)

[[

1

]

]

$

data

(

)





pop

$

state




}




#>

 Loading required namespace: NMF


#>

 <Object of class: NMFfit>


#>

  # Model:


#>

   <Object of class:NMFstd>


#>

   features: 4 


#>

   basis/rank: 2 


#>

   samples: 150 


#>

  # Details:


#>

   algorithm:  brunet 


#>

   seed:  random 


#>

   RNG: 10403L, 148L, ..., 581505866L [f712fcb2e9af94b00ba580916aea483e]


#>

   distance metric:  'KL' 


#>

   residuals:  3.085118 


#>

   miscellaneous: dt_columns=<character>, affected_cols=<character>,


#>

               intasklayout=c("<data.table>", "<data.frame>"),


#>

               outtasklayout=c("<data.table>", "<data.frame>"),


#>

               outtaskshell=c("<data.table>", "<data.frame>") . (use 'misc(object)')


#>

   Iterations: 450 


#>

   Timing:


#>

      user  system elapsed 


#>

     0.099   0.004   0.103